Services
EuroSim Training



Experience has shown that EuroSim users can learn to develop and and use real-time simulators using EuroSim's graphical interfaces with a minimum of user training. However to design and develop a simulator for more complex applications requires deeper insight and additional knowledge of Eurosim concepts, tools and interfaces. Similar, designing and developing complex test sequences for a simulator as part of a test facility, requires an additional level of scripting and tools knowledge. The EuroSim Training Program provides a set courses that are tailored to role of users in a EuroSim based project. The consortium can provide the courses at Airbus Defence and Space Netherlands premises or onsite at customer's premises.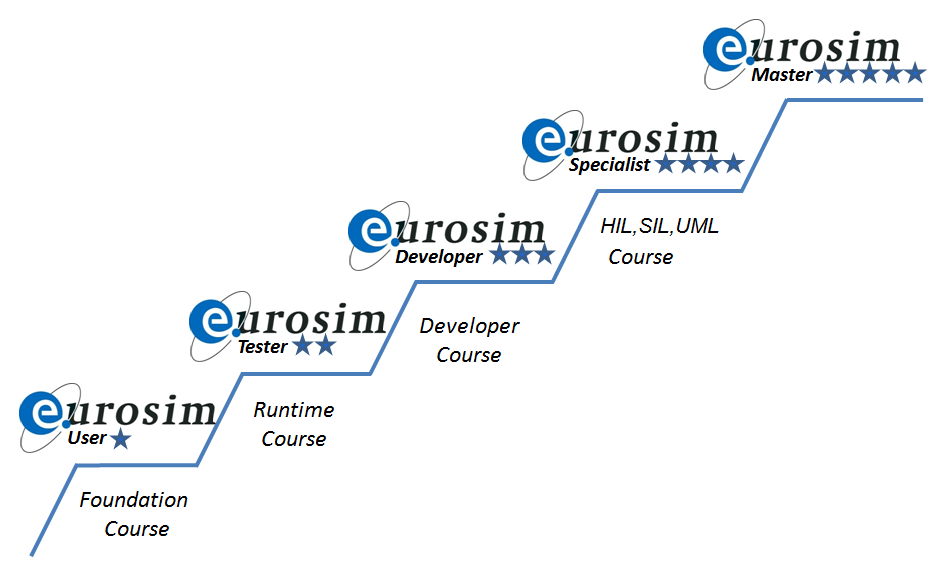 The EuroSim Foundation Course is suited to all engineers as well as managers who require more insight, and forms the entrypoint to the EuroSim Training Program. The EuroSim Run-Time Course and Developers Course build on the broad perspective of the Foundation Course with key knowledge for a Test Engineer and Simulation Developer. Finally the EuroSim Specialist Courses teach courses on advanced topics such as how to utilize and extend EuroSim provided external interfaces for hardware and software integration and how to use the EuroSim UML Transformer addon. The EuroSim Master degree is only provided as recognition of outstanding insight gained in either development or application of EuroSim. All EuroSim course teachers have gained the master certificate.

In the Expert Sessions, experienced users and add-on developers provide an interactive sessions of about one hour to students to learn from their experience with EuroSim in large projects or explain the application and usage of add-ons. These sessions are added as a bonus throughout courses when the course is conducted at Airbus Defence and Space Netherlands premises. Our Hall of Fame shows the level of certification achieved by the participants in the EuroSim training program. In pictures from the course a variety of photographs show the courses in progress at our facilities.


---