Fighter4Ship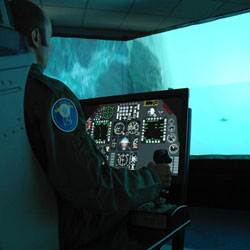 Objective

The primary objective for the Fighter4Ship (F4S) facility is to enable research on fast-jet team operations and the embedding thereof in potentially large-scale collective, combined and/or joint operations. Research is focused on, but not limited to:
Progressing Distributed Mission Simulation (DMS) technology;
Improving Distributed Mission Training (DMT) training;
Enhancing team tactics;
Performing Concept Development and Experimentation (CD&E).
Context

During military operations, fast-jets operate in teams of two, four, or more. Fighter 4-Ship (F4S) is a research simulation facility that can simulate the collective tactical operations of up to four fast-jet fighter aircraft. The tube-frame mockup approach of F4S makes it affordable and mobile, and it's potential was shown when shipped to Lockheed-Martin to be used in an onsite demonstration of MultiShip Embedded Training concepts at LM Aero, Fort Worth, USA.

F4S focusses on interoperability and reconfigurability - with support for modern and conventional cockpit layouts - with F-16 simulation as a basis. A research HMD is part of the set-up. F4S supports the whole mission-cycle by integrating the mission support systems for planning, briefing and debriefing, as used in actual fast-jet operations by the Royal Netherlands Airforce (RNLAF), but also experimental and prototype systems . Also state-of-the-art mission scenario and environment simulation is available to build-up complex scenarios for F4S to operate in.


Role of EuroSim

The Fighter4Ship's primary objective is to enable research and for that reason it needs to be configurable, and even portable to allow it to be shipped to locations where studies take place. The tube-frame mockup approach of F4S makes it affordable and mobile, and the EuroSim based realtime simulation running on Linux PCs allows easy adaptation and configuration of models.
---